Walk for Hunger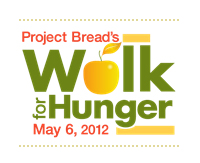 If you live in the Boston area you probably saw, heard, or even participated in the 44th annual Walk for Hunger. This is a huge charitable event that takes place every spring in Massachusetts, and raises money for families who struggle to put food on the table. The walk is supported by thousands of people from all over the United States, who show their dedication by walking up to 20 miles! Even though I have not yet participated in this event, I've heard from many different people that this walk is quite challenging, but ultimately a lot of fun!
The reason why I've come to love and appreciate this event, led by Project Bread, is because it gives everyone, from kids to adults, a way to participate in helping their community. It doesn't require you to be an athlete, travel, or have millions of dollars to participate. Anyone can walk; with friends, family, or pets. All you have to do is be motivated and get out of bed, grab your water bottle, put on your sneakers and be passionate about raising money for those in need.
In my opinion, this walk brings unity and brotherhood between different types of people, and it also brings home a message about the benefits of walking. Ironically, during the past few months the other youth advisors that I work with and I have been focusing on nutrition and fitness, so I'm well aware that walking is a great way to stay in shape!
The Walk for Hunger is the oldest pledge walk in the United States. The millions of dollars that are raised goes to helping neighborhoods, communities, schools, and hospitals, all fighting for this one common cause, "making hunger relief a normal part of their day". How do you plan on helping out in your community?
-Christina