Comfortable In the Skin You're In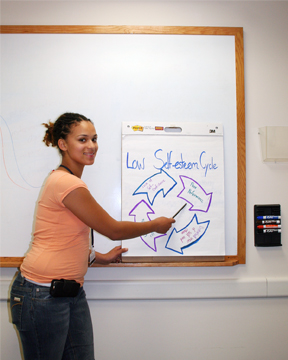 The day started out really badly. First I was late for work and stuck in traffic on a crowded bus with no where to sit. It was early in the morning and I was so tired. When I finally made it to work I was in a rush to finish preparing for my Self-Esteem and the Media presentation that I had to do. The first person I ran into was Phaedra which was nice because I hadn't seen her in two weeks. She then informed me that Pauline, one of the other peers, would not be able to make it to the presentation due to the weather.
I was stuck with a decision; I could cancel the presentation or I could do the presentation on my own. I was really torn because part of me really didn't want to cancel the presentation and part of me was very nervous about presenting on my own. But I decided that I would do fine all on my own. Although frustrated, I had to make a game plan in my head.
When I walked into the room the girls were loud and rambunctious, I was a little intimidated at first but I knew I had to get it together. When the presentation began the girls were completely opposite from when I first encountered them. As soon as the presentation began I was the center of attention, so I had to put on a good performance. But the girls were so quiet that I wasn't sure how this presentation was going to go. During the ice breaker there was complete silence and the girls only spoke when it was thier turn, and they were extremely respectful. But after we did our first activity, "Tear it Up", that girls started to get more involved.
Midway through I knew I was doing a good job. The girls were responsive, they were smiling and having fun, I was having fun too. At the end one of the girls came up to me and told me that my presentation was the best presentation they had all week. After I was finished they gave me a huge round of applause and a big Thank You! I was so proud of myself. I was proud that I believed in myself enough to step outside of my comfort zone and let myself try. I was happy that I really reached these young ladies and helped them become more comfortable in the skin they're in.
-Dennisse