OMG: Txtin' & drivin' i$n't so gr8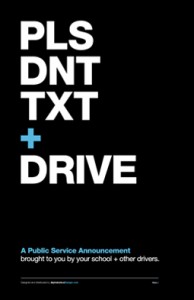 Everyone loves having a license and the freedom that goes with it, but driving comes with a lot of responsibility. Caring for your safety and the safety of others is extremely important when you are driving a car. Even if you are feeling confident with your driving abilities, no one is talented enough to text and drive without losing focus. I know that many of us may be guilty of texting while driving, but what we may not be aware of is the life threatening risks that come along with it.
Along with the car radio, cell phones are one of our main distractions while driving. Texting while driving can be one of the most deadly combinations when drivers get behind the wheel. Last year 21% of all fatal car crashes that involved teen drivers were caused because of texting and driving. Some states are now enforcing laws banning texting behind the wheel, carrying fines up to 750 dollars and the possibility of losing your license. Without a license you will lose the freedom of being independent, and how uncool would it be if you have to wait for mom and dad to drive you around? Answering a text can wait – your life and the lives of others are way more important.
Here are a few driving safety tips:
Turn your phone off while you're driving.
If you're riding with a friend, let them read and reply to your text messages for you.
If you're not comfortable with having your phone turned off, silence it to avoid a distraction from the ringer.
If you MUST read a text, pull over safely and leave your hazard lights on.
MA based design studio Alphabetica designed the poster pictured above. They are going to print and distribute all of these PSA's to public and private high schools across the US – free of charge. Every public high school in Boston, San Francisco, and Orange County Florida has agreed to display these posters for all to see. These posters will be going out later this summer in time for the new school year.
-Emily