National Women and Girls HIV/AIDS Awareness Day 2010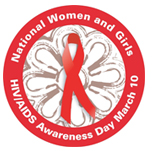 March 10th is National Women and Girls HIV/AIDS Awareness Day. This day serves to raise awareness of the increasing incidence of HIV/AIDS in women and girls. Women account for nearly a quarter of the population diagnosed with HIV/AIDS. There are many reasons why women have contracted this disease; the main reason being involvement in heterosexual relationships. This isn't saying that women shouldn't be involved in sexual activity with the opposite sex, but that they should definitely be more careful.
Women have unprotected sex with their partners for various reasons. For instance, your partner may claim that "it feels better" without a condom, or he might say that there is no need for condoms because neither of you are sleeping with anyone else. However, you always have to keep in mind that although a guy tells you that he is not having sex with anyone else doesn't mean that he is necessarily telling the truth. He could very well be having sex with other women, or even other men. I'm not saying that your boyfriend, husband, or partner is cheating on you, but it's better to be safe than sorry. You are better off protecting yourself by using condoms. No glove, no love.
Some women may not insist that their partner wear a condom 100% of the time, because they're afraid that their partner might leave them. This contributes to sexual inequality (when one sex has more power than the other) and self-esteem issues. Women should feel independent and have confidence in themselves before getting into any type of relationship. Women need to realize their own worth so that they don't feel pressured into a situation that they're uncomfortable with.
In 2003, Center for Disease Control (CDC) took the initiative to enhance HIV prevention. This consisted of making HIV testing a routine part of medical care, and preventing new infections by working with HIV-infected people and their partners. The CDC also funds prevention programs. In Massachusetts, the CDC funds Women RISE (Risk Identification, Strategies, and Empowerment); an HIV prevention services program.
Did you know? (CDC statistics)

Every 35 minutes a woman tests HIV positive in the United States
1 in 4 Americans living with HIV are women
Of the women diagnosed with HIV/AIDS in 2005, 64% were black, 19% were white, 15% were Hispanic, 1% were Asian or Pacific Islander, and less than 1% were American Indian or Alaskan native
During vaginal intercourse, a woman is more likely than a man to contract HIV infection
1 in 5 new diagnoses for women are related to injection drug use
For information about how and where to get tested for HIV, visit hivtest.org. This website has a feature where you can type in your zip code, and get the names and addresses of testing locations near you. It's sponsored by the Centers for Disease Control and Prevention (CDC).
For more information about HIV/AIDS, you can visit our guide here.
-Erica