CYWH & Martha Elliot Health Center: Learning From Each Other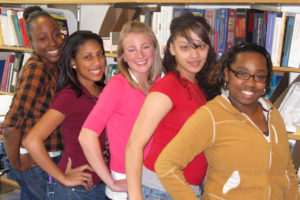 It's been a busy couple of weeks here at the Center with all of the different projects we've got going on! However, this past Wednesday we got some down time and worked with two peer leaders from the Martha Eliot Health Center (MEHC) over in Jamaica Plain. Martha Eliot and the Center for Young Women's Health have very similar youth advisory programs. Both groups are made up of teens (usually highschool age) who live in and around Boston. The peer leaders from MEHC work with adolescent patients who have found themselves in some sort of crisis. The peers have the ability to relate to the patients because many of them grew up in J.P. (Jamaica Plain). The MEHC peers have also been involved in a project that provides job placement for younger teens (between the ages of 13-15) who wouldn't otherwise be able to work due to the age requirements in the state of Massachusetts. Their involvement in this project is really something to be proud of because it will impact hundreds of Boston teens. The girls and I would like to wish the MEHC peers the best of luck!
Aside from talking about being teen girls and all the excitement the spring and summer bring, we learned a lot from each other. We exchanged different ways to present to various age groups on the topic of healthy relationships. The CYWH peer leaders co-facilitated our healthy relationships presentation, which includes different interactive games such as telephone and role playing. QuanDejah and Geraldine (the peers from MEHC) have experience in improvising, since they all participate in Urban Improve; a group that was launched here in Boston to get teens talking about real issues and ways to work them out. The MEHC peers presented their healthy relationships presentation by acting out a scene involving a conflict between a teen and mom. After the skit they asked us to figure out what had gone wrong during their role play and how it could be resolved. We all learned a lot from one another, and it was nice to meet other peer leaders who share the same mission and passion for educating youth about making good choices.
-Emily