Back to School 2011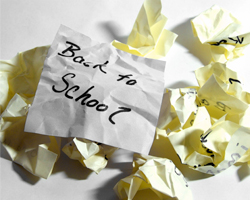 Although this summer seems like it just began, it's actually quickly coming to a close. Can you believe it? Soon the warm summer nights will have a chill in the air and the leaves will begin to change color. The changing of seasons is not the only change that comes with the start of a new school year. Many of you will have new classes, new friends, and possibly a new environment.
The thought of all of these changes can sometimes be scary if you aren't familiar with your new surroundings. I know firsthand because I'm going to be transferring colleges this fall and I'm feeling a little anxious. However, I've come to the realization that my anxiety is completely normal. I'll have to make several adjustments as I transition into a new environment where I won't have the same dorm friends and the familiarity with the campus as I did at my previous college. Feeling a little worried about the new school year doesn't just affect college students though; it affects middle and high school students as well.
Throughout our childhood and teen years we do a lot of growing up and maturing. Some kids do it faster than others and vice versa, and any speed is just fine. Although a lot of things may change from year to year some things may remain constant. We may or may not keep the same friends as we had the year before, we may find that we excel in a new class, or do better in a subject than the previous year.
You may begin to notice changes in relationships with your friends too. The interests you may have once shared might begin to fade away. You and a friend may start to go in different directions, but this is perfectly normal. Your friend isn't drifting away from you because they don't like you; rather you're simply starting to have different interests, which is a normal part of growing up.
Don't let the anxiety of starting a new school year put a damper on the end of your summer plans! Once you begin to get into the groove of a new school year you'll be able to settle into a routine and become comfortable with your new surroundings and friends!
-Emily