Skechers Shape-Ups – Proven Sketchy!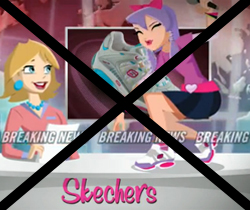 The first time I heard about Sketchers Shape-Up shoes I knew they weren't going to be a success. It was like I was watching another commercial on diet pills that help you lose weight fast without changing your diet. It's all a scam, because there's no such thing as easy weight loss. I think it's just another example of consumerism in our society.
I read part of an article in the Boston Globe that talked about a study on three different brand toning shoes: Skechers Shape-Ups, MBT, and Reebok's EasyTone. The study showed that the people who participated in the study had no difference in muscle activity wearing the toning shoes instead of regular running shoes. Consumers who bought these products saw no change and are now eligible for a refund under a lawsuit settlement for the companies' false advertisements.
So, in other words, you shouldn't always believe what you see on TV – especially when the ads claim the product will help you to lose weight. Weight loss takes effort and hard work. Wearing a certain kind of sneaker or taking diet pills isn't the answer. Weight loss starts with healthy eating habits and moving more by getting into an exercise routine. Don't believe everything you read or see on TV. If the ad sounds too good to be true, it probably is.
-Alexa