Chef Caitlin's Corner: Granny Smith Apple Oatmeal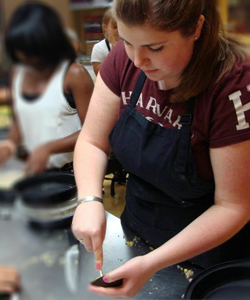 Hi there everyone! My name is Caitlin, and I'm a chef and a nutritionist (dietitian). I was also a youth advisor at the Center for Young Women's Health from 2004 to 2006. Since leaving the Center, I attended Johnson & Wales University and earned my Bachelor's Degree in Culinary Nutrition. It basically means that I know how to make yummy food that's great for you too. Now I'm working on my master's degree in Food and Nutrition at Framingham State University.
I decided to contribute to the blog to share my favorite delicious recipes with you (and explain a little about why they're healthy too). When I started thinking about what type of recipe I should share with you for my first entry, I decided to start at the beginning – with breakfast!
Groan… yawn… breakfast? It happens to be my favorite meal of the day. Many breakfast items are carbs, carbs, and more carbs, but eating only carbs will leave you feeling tired and hungry in a few short hours. When thinking about what to eat for breakfast, aim for foods from at least 3 food groups (fruits, vegetables, grains, protein, and dairy) and remember to choose whole grains to fuel up for the day.
My go-to breakfast is oatmeal. Instant oatmeal is a good choice, but if you love cooking like I do, nothing beats the taste of homemade oatmeal. My oatmeal recipe (see below) has 3 foods from 3 groups; grains, fruit, and dairy. This recipe is also good source of calcium, which is very important for bone health and growth. Pair it with a hard-boiled egg and you have a super-charged breakfast that only takes 10 minutes to make.
Granny Smith Apple Oatmeal – 1 serving
Ingredients:
1/2 cup Vanilla Soy Milk*
3 Tbsp Brown Sugar
1/4 cup Quick Cooking Rolled Oats
1/2 Granny Smith Apple, cored and diced (leave the skin on for some extra fiber)
2 Tbsp Ground Cinnamon
Instructions:
In a small sauce pot, bring milk and brown sugar to a boil. In a separate bowl, mix together diced apples and cinnamon. When the milk comes to a boil, add oats and cinnamon coated apples.  Simmer on medium low for about 5 minutes or until it has the consistency that you like.
*I like the taste of vanilla soy milk, but you can use skim or 1% milk, rice milk, or almond milk instead. Keep the same amount – ½ cup.
This oatmeal recipe has tons of fiber (both soluble and insoluble) to keep you feeling full longer. I really hope that you try it− just be sure to check the cooking time on the back of the oatmeal package. If it isn't "quick cooking" oatmeal it will take closer to 30 minutes to cook fully!
If you have any nutrition questions or favorite recipes that you'd like to share, you can send me an email at cywh@childrens.harvard.edu with "Chef Caitlin" in the subject line. I'll choose recipes and questions to share in my upcoming blog entries.
Check back soon to read my next blog entry: "Farmer's Market Challenge!"
Bon Appétit!
-Chef Caitlin