Coming Together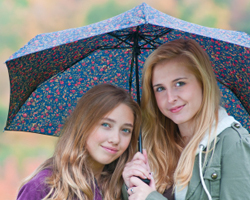 If you happen to live in the Northeast part of the US, this blog entry might hit home. The atmosphere in Boston on Monday morning was a bit peculiar: lots of bright yellow ponchos, wind, a misty rain, and a quiet busyness as people made last-minute trips to the hardware or grocery stores.
However, as I made my way to the bus stop, the general mood was a friendly one. I made eye contact with people on the street and they were quick to smile. There was a common feeling of togetherness that isn't always there. With warnings of a perfect storm (Hurricane Sandy) brewing along the Atlantic coast, we were brought away from our own day-to-day worries to something that was affecting us all, in small and big ways. We were also reminded that we need each others help, be it the simple comfort of company when work places are closed, or sharing a flashlight if the power goes out. We are a community of people who care about each other — a reminder that we're not alone.
This may be a leap, but I'd like to connect this sense of community to how we think about our personal health goals. Maybe we should ask ourselves what's "underneath" this goal to find a healthy weight, to eat healthier foods, or to exercise more. Perhaps it's a belief that doing these things will lead us to feel healthier, or even happier, as individuals. If so, let's take a minute to remember that everyone wants to be happy; this natural, universal wish for happiness drives many of our personal goals.
So while a hurricane can bring us together in our common goals to stay dry and safe, I offer this challenge: Can our struggle to make healthier choices every day bring us together in our common goals for health and happiness? If it can, we'd know that we share something in common with the classmate next to us on the bus, or the person whose locker is next to ours at school — despite our differences on the outside.
It's connecting in this way, and perhaps offering a smile in understanding of our common goals and struggles, that we find true happiness.
-Nutritionist Abigail