Brittany's Endometriosis Tips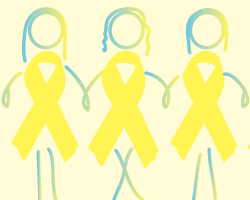 Hey ladies! My name is Brittany and I'm 16 years old. I'm starting off this year with a whole new attitude! I've been suffering with endometriosis for the past two years. During this time, it's taken me a while to get back to my old and happy self. I had to learn how to deal with the pain, the lack of energy, depression, and complete exhaustion. This year I'm going to help you get through it, and it all starts with a positive attitude! In my blog entries, I'll talk about my trials and tribulations and help you get on the road to good health!
I have some ways for you to get started on the road to feeling good while dealing with endometriosis. These tips help me and I hope they help you too.
Exercise: Exercise releases hormones called "endorphins", which make you feel happy! So if you're having a bad day, come home and take a walk outside or take a bike ride. Another great thing about exercise is that it can help relieve cramps.
Meditate: This year is your year to learn how to relax, and meditation is a great way to do just that. Sit in a quiet room and listen to your favorite music and focus on breathing and getting rid of all of the negative energy. Focus on releasing the pain from your body.
Create a healthy eating plan: Healthy eating is critical for girls like us with endometriosis. Eat foods that will give you energy and help your immune system. Instead of eating simple carbs and sugars such as white bread, cookies and desserts, choose whole grains, fruits, and veggies! They're packed with nutrients that your body needs to stay healthy and fight off colds.
Find a new hobby: When you're dealing with endometriosis, sometimes all you can think about is the pain. Try a new sport or take up a new instrument to help get your mind off it! It will also give you something to look forward to.
Well, I hope my tips give you some ideas to help you deal with your endometriosis. 2013 is going to be your year; it's time to focus on YOU!
-Brittany