Applying Early Decision to College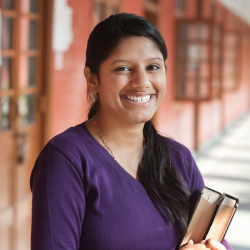 Applying to college is extremely stressful. Now imagine applying to only ONE school, under the agreement that you'll have to attend that school if you're accepted. That's a huge gamble and risk, and that's exactly the risk I took when I applied to Tufts University under the Early Decision agreement. My deadline was about a month and a half before all of the "Regular Decision" applicants. When you apply Early Decision (ED) it also means you can't apply to other schools until you have heard back from your "Early Decision" school. You can probably imagine how panicky my parents were when I told them I only wanted to apply to one school.
Even though I knew I was taking a huge risk, without any foresight of what my financial aid package would look like, my heart was really set on Tufts University. Based on the multiple times I visited, I felt like I really belonged on campus. Each time I was impressed with how friendly the students were. When I visited in June 2013, I sat down on the lawn to relax (Tufts is a 10-minute walk from Davis Square, Boston, on the Red line, and so I was a bit tired and hot from walking in the sun). A few students invited me to play Frisbee with them ─ I was hooked! I met with my guidance counselor after my visit to tell her how much I loved it, and she began talking to me about Early Decision to show Tufts my extreme interest and willingness to attend the school. Since I knew my deadline would be earlier than other applicants, I needed to start my process earlier and get stuff done sooner to put myself at ease and keep on track. I started writing my college essays and supplements (each school might have extra essays you have to write in addition to the ones on the Common Application, which is the server used for students to send their information to colleges) in the summer so I had time to ask different people for feedback. I was so antsy about getting through the college process!
After many essay drafts and lots of waiting, I came home to an e-mail on Monday, December, 16 2013 at 3:34 PM. It was from Tufts Admissions, telling me that my decision was available online on the school portal. I quickly logged onto my account, and clicked on the "Get Your Decision!" button and read the first word – Congratulations. Nothing will ever be able to surmount the immense joy I felt at that moment; I couldn't believe that I was accepted to my dream school. All of the work I put into my high school career ended up paying off for me in the end.
Not everybody feels comfortable applying to only one school. It's great to have lots of options when choosing colleges, especially when the financial factors play a big part in deciding where you will go. Be sure to ask you guidance counselor for help if you have any questions about preparing for college, and talk to your parents about your choices. It's important to have support during such a stressful time.
-Jessica