Staying Safe on Campus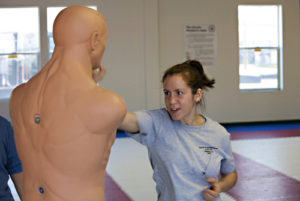 As winter gets closer in New England, the days become shorter and the nights become longer. This means that it gets dark as early as 4:30pm. If you are a college student there are several important safety tips to be aware of especially if you are out and about walking to class, the dining hall or the parking lot. Being a commuter, I know how important it is to remember the following:
Make sure to park in a visible area.
Lock your car and do not leave valuables unattended (laptop, purse, phone).
Be aware of your surroundings and have your keys ready as you approach your car.
Don't put your name or address on your key ring.
Remember that campus security is available if you ever feel unsafe walking to your car. Make sure that you have the phone number programmed into your cell phone. Don't feel shy about asking for help; it's their job to make sure you are safe.
If you live on campus:
It's always best to walk with a buddy when its dark outside since there is "safety in numbers".
Be aware, alert, and conscious of your surroundings (that means no earbuds/headphones and no texting while walking).
Keep your dorm room locked.
Report all lost keys to your RA or campus police.
If you observe a situation that feels questionable, alert others around you.
Be sure to report any suspicious or unusual activity to either the campus or local police.
Stay vigilant, trust your instincts and ask for help if you need it. Be sure to report any suspicious activity to the police. Consider taking a self-defense class. Knowing how to defend yourself is a great skill to have! Check with the campus police about local classes. They are often free of charge to college students.
For students in the Boston area:
Check out Krav Maga Yashir in Boston, a self-defense program for men and women of all ages that offer free trial classes.
If you are a girl under the age of 18, check out Girls' LEAP, a nonprofit group aimed at empowering girls and young women in the Greater Boston Area. Participation is free and open to girls ages 8-18!
-Mirtula