Saying Goodbye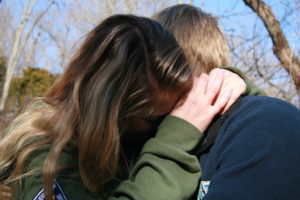 Goodbyes are tough. Sometimes it's tempting to skip them all together to avoid feeling uncomfortable. However, saying goodbye is important for moving on.
Right now you might be leaving friends at summer camp or a summer job. You and your family might be moving to a new town soon, leaving behind your neighbors and school friends. You might be leaving town for a whole other reason: college! There are many situations that can bring about a goodbye. Below are some ideas to make saying goodbye a bit easier.
Think Ahead: In difficult moments it's easy to get tongue tied. If you're saying goodbye to someone important to you, it can help to think about what you're going to say beforehand. Some even find it helpful to write a letter!
Plan a Time: Things can get very busy before you leave, especially if you're moving away or to college. Make a plan with your friend for a time when you two can hang out.
Sharing is Caring: You and your friend have a lot of memories that you already share. Sometimes sharing something—like a photo, a playlist, or a special object—can help you and your friend remember all the good times.
Keep in Contact: Goodbyes don't have to be forever. Keep in contact through phone, email, or social media!
You know that cliché "when one door shuts, a window opens"? Well it's true! Saying goodbye to friends, school, your hometown, etc. can be upsetting. Fortunately with every goodbye comes something new—new friends, new school/job, and new experiences. Give yourself closure by saying goodbye to those whom you care about and get excited for what's to come!
– Lauren