The Winter Classic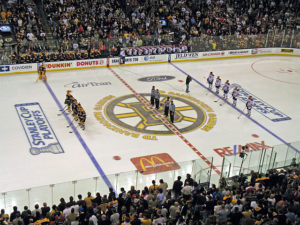 Startled and awoken by my alarm ringing directly across from my head, I reached for my phone that read 5:30am and I quickly swiped to silent the loud ringer that pounded my ear drums. I didn't have to get up until 6 but there was no way I was falling back to sleep. The day I had been waiting for for what seemed like forever was finally here, the 2016 NHL Winter Classic.
The Winter Classic is a game that is played once a year on the first of January and is the only NHL game played that day. Two of the thirty teams in the NHL are selected each year to play in a game that takes place at an outside arena usually near one of the teams' home arena. This year, the Boston Bruins were set to take on the Montreal Canadians at a differently set up Gillette Stadium in a deep rooted, Original 6 rivalry game. The weather was forecasted to be around 32 degrees Fahrenheit which was certainly higher than anticipated but nonetheless still freezing to be spending outside.
Anticipating the worst weather possible because it is New England after all, I eagerly put on 3 pairs of pants and packed an extra, 3 pairs of sock, warm winter boots, three shirts, two sweatshirts, a wind breaker jacket, Bruins Jersey, a Bruins Winter Classic hat, hand warmers, and two blankets. Needless to say, I was ready for whatever weather was to come. We arrived outside of Gillette at about 8:45am and the gates opened at 9am but with the flood of cars just waiting to get in, we didn't end up in a parking spot until about 9:30. Now with the puck drop set for 1:00pm, we still had plenty of time to spare. So we set up the grill and began patiently waiting.
Before we knew it, 12:30 rolled around and it was time to go wait in line to go to our seats. I grabbed all the extra layers and after what seemed like forever, we made it to our seats-and the temperature set in. The weather sure seemed to be affecting the players as well. But late in the first period, that all changed when the Canadians scored a goal that would open up the scoring.
Though the Bruins went on to a disappointing loss of 4-1, the experience was something that is unparalleled to anything I've ever experienced. Getting a taste of outdoor hockey really allowed me to experience a part of the origins of hockey- and the snow flurries just enhanced the experience.
– Katlyn