Introducing Annie!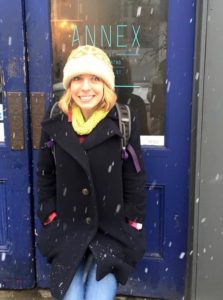 Happy January everyone!
I call myself Annie Z or Anne Marie, it comes out differently every time I say Hello!  I wonder who I am today, and where I'll go!  A few things you should know about me are: I use the pronouns she/her/hers, I love rhymes, and I believe it's very important to breathe.
(Try it with me now.  Ahhhhhh.  That was nice.)
I will be collaborating with the CYWH Peer Leaders over the next three months to raise awareness around LGBTQ related issues—gathering and sharing resources from local health organizations and exploring the concept of allyship.  This collaboration/exploration is part of my Community Practice Project as a Masters in Social Work Student at Smith College.
I grew up in St. Louis, Missouri and moved to town this September for an internship at Boston Health Care for the Homeless Program.  I have worked as an actor, a massage therapist, a grocer, and a goat cheese maker, just to name a few.  While volunteering for Planned Parenthood in NYC a few years back, I discovered I was extra passionate about supporting the sexual health of young folks.
I look forward to contributing blog posts on LGBTQ health topics this Winter/Spring.  I have lots more to say, but today I'll leave you with a quote from a singer-songwriter whose poetry has spoken to me since I was 16:
"I know there is strength in the differences between us. I know there is comfort, where we overlap."  -Ani DiFranco
Warmly,
Ann(i)e