Getting Steamy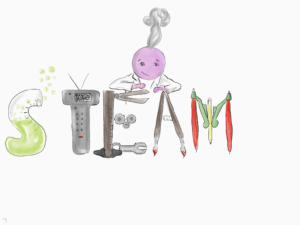 This past summer I spent six weeks at the Museum of Fine Arts working as one of six members of a pilot fellowship program called the STEAM team. We covered a huge amount of ground in six weeks and I learned about nearly every part of the museum that one doesn't typically see. The STEAM movement is a new trend in both Art and STEM fields that was coined at Rhode Island School of Design. The program split the acronym into weeks (Science week, Tech week etc.) covering a different field of study for five weeks and then using the last week to present what we had learned to a variety of people around the museum. For example in the first week we looked at how science and art were being merged both in and out of the museum. We met with the head of scientific research for the conservation departments and then met with a number of the conservation departments. They informed us of a number of techniques that incorporate science to really save the life of a piece of art. This process continued for the rest of the STEAM acronym each week. It was incredibly informative.
I had looked at Museums as entirely stagnant, however the amount of motion and action that is required to make it operational is truly incredible. In other pieces of the program we met with Leadership in the museum. For example we met with the director of the museum, and he informed us of how he got to a place of leadership, how he developed his career, and other advice he had for us. The last piece of the program was perhaps my favorite. Each week we would go off site to a variety of locations around Boston, ranging from Google's Boston HQ to Brown's center for Slavery and Justice. It was truly inspiring to see that the philosophy of STEAM was being incorporated into other institutions besides those based in the arts.
I have always been conflicted at the intersection of Arts and Sciences. Science fascinated me but I was much better with art, in all its form. I cannot express how grateful I am to have been able to explore both of the areas cross disciplinarily. I highly recommend the program to anyone that finds an interest in both STEM and Art, and highly encourage other institutions to begin the development of similar programs.