I'm Stuck Inside!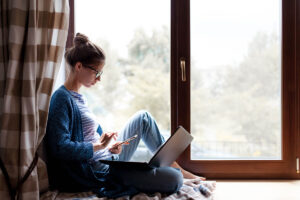 In March of 2020, COVID changed the way the world worked. One of the biggest changes we have all had to adapt to is staying socially distanced. For most of us, this means staying inside our homes with our family members. We are missing out on going to school in person, playing sports, going to concerts, watching movies, and seeing our friends.
These changes in how we live and interact with other people can have us feeling lonely, sad and isolated.
As the winter months approach, and the cold weather threatens to keep us inside even longer – you may be thinking you have done everything there is to do inside, keep reading for some new ideas!
Journaling
Journaling can be an amazing outlet to record your thoughts and feelings, especially during challenging times. A journal can be a place that is only for you, and there is no "right" way to journal – you are free to write what you want without judgement or punishment.
Writing in a journal can also help to work through thoughts and feelings in a healthy way.
For some people it is hard to get started writing a journal; here are some ideas that you might want to try writing about:
What is the best compliment you have ever received?
If you could know one thing about the future, what would it be?
What is something you feel nervous about right now?
What is your happiest memory?
What is something that you did that you are proud of?
I get mad when…
What calms you down when you get mad or upset?
What is something that went right today/this week?
If you could travel anywhere in the world, where would you go and why?
What is one item you can't live without?
Gratitude Journaling
Gratitude is focusing on the things that are good in our lives and that we are thankful for, and by expressing these feelings of being thankful we acknowledge the goodness that is in our lives.
This year you may find it harder to practice naming things you are grateful for, but it is more important than ever. Research shows that when we choose to focus on the things that we are grateful for, it can actually improve our overall health and wellbeing.
An easy way to start a gratitude journal is to practice writing down three things you are grateful for every day. Keep in mind that these do not have to be big things, they can be as small as being grateful for how pretty the stars look in the sky.
Volunteering
Not only does volunteering help other people, it is also very good for your health. Volunteering has been shown to increase confidence, decrease depression and reduces stress.
There are online tutoring programs that you can be involved in while still staying home (and staying safe). Additionally, you can write a letter or send a card to older people living in nursing homes, who are also feeling increased loneliness during this time. Organizations, such as Love For Our Elders (https://loveforourelders.org/letters), send letters to older people around the world.
Plan your Days
Routines are also very important to our overall health.
Important routines to try and maintain year round include:
Getting outside daily (even if you have to bundle up!)
Sleeping and waking up at around the same time every day
Eating regular meals and snacks (try to include fruits and vegetable every day)
Drinking water throughout the day
Getting 150 minutes of exercise every week
Try using craft supplies to make a daily or weekly calendar.
If you are feeling increasingly sad or depressed, talk to an adult you trust or to your primary care physician.