Introducing Tynaya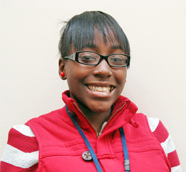 Hi readers, my name is Tynaya and I am the new youth advisor at the Center for Young Women's Health. About 5 years ago, I attended a camp called the Peer Mentoring Program for girls at Children's Hospital Boston. Lounging in my chair, all I could think about was getting out and finishing my summer off the right way. But, when the program ended, I came out knowing so much more about myself and having a broader outlook on many topics. My self-esteem was sky high and I felt that I could take on the world.
It is now years later, and I am proud to be working at the CYWH. Even when I left the summer program, I knew I wanted to be a youth advisor and make a difference for girls my age. Thankfully, I found out that the Center was looking for two new youth advisors! I knew I had to blow them away with my interview, and show them how I was able to advocate for young women. As soon as I found out they were hiring, I got an application and filled it out the same day. A few days later, like clockwork, I was called in for an interview. I was told that I would be meeting with one of the peer leaders, Dennisse. I became nervous because it is easy for me to make a good impression on adults, because usually they are the ones who are really impressed with "big" words and being articulate. With a person your age it's different since you can't just throw in some of your astounding vocabulary to get them on your side, you have to keep everything real and tell them why exactly they need you.
Meeting with Dennisse turned out to be surprisingly enjoyable and very beneficial. I managed to keep from stuttering and making a complete fool of myself, and Phaedra, who I remember from camp, hired me on the spot. The first thing Phaedra said to me was "I remember when you introduced yourself as Dr. Frasier on the first day of camp". I was sort of embarrassed, but at least now I can laugh at it.
I know that I will be the best youth advisor that I possibly can be and hopefully change the lives and opinions of many teem girls. I am excited and I feel that what I can contribute most to the CWYH is the fact that I used to be a very shy and timid girl, but with the help of the Peer Mentoring Program, look what I grew up to be.
-Tynaya