February Break: Boston Style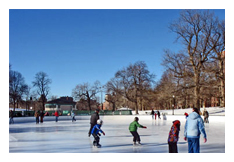 I'm pretty sure that all Boston public school kids are excited to be on vacation this week. They get to stay up really late and not worry about waking up early the next morning to go to school. They also get to do whatever they want, such as staying home all day and watching TV, going on Facebook, or texting their day away. However, that sounds like a pretty dull vacation to me.
I think that instead of just hanging around at home, you should take advantage of all the events that are going on right here in Boston. The Frog Pond is offering free admission and skate rental from February 16th-19th between 10am and 12pm.You should plan on getting there early, because only 100 kids are allowed in per day. If you don't like to skate but you'd like to learn how to swim, then you can attend free swimming lessons at the Holland Community Center. The lessons are Mondays and Wednesdays from 7 to 8:30pm, and Saturdays from 10am to 12pm. You can even plan ahead for summer vacation this week. If you're a Boston resident between the ages of 15 and 17, you're eligible to register for a job with Hopeline by calling 617-635-4673.
On February 19th there's going to be a Safe Love dance and health fair at the Dorchester Multi-Service Center at 1353 Dorchester Ave. in Dorchester. If you are between the ages of 13 and 18, you're invited to attend. The health fair runs from 6-8pm and the dance starts right afterwards and runs until 10:30pm. The CYWH will have a resource table there, so make sure to stop by our table and say hello! Just remember that you can attend the health fair and not go to the dance, but you can't go to the dance if you don't go to the health fair. You can pick up your FREE tickets at different locations such as the Dorchester House and SCI Dorchester.
Click here for a listing of more things to do during February break.
-Erica