New Website Feature – "Ask Us"!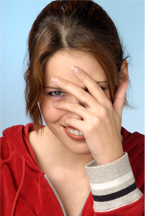 Hopefully everyone is having a great summer! It's hard to believe that the 4th of July is right around the corner – crazy! Here at the Center, our web designers have been working hard to add cool new features to our site. The latest creation is called "Ask Us". YOU, the reader, will be able to ask general health questions (even the most embarrassing kind) via e-mail. Our dedicated team at The Center for Young Women's Health at Children's Hospital Boston will choose a question each week and post the answer on the site.
Although we are unable to provide personal medical advice, our health care team will answer general questions such as, "Can a tampon ever get lost?" or "Is it normal to have different size breasts?" We won't ask for your name or e-mail address. So don't be shy, go ahead and ask those embarrassing questions, because 9 times out of 10 you're not the only one searching for the answer! Keep your eyes peeled for this awesome new feature (coming this summer), and be sure to give us some feedback!
Stay safe and continue to have a fabulous summer!
-Emily