Hope and Awareness Bracelets for Endometriosis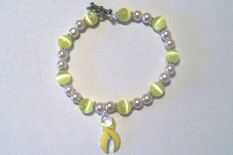 If you're reading this, you've probably been diagnosed with endometriosis. With that said, I really don't have to tell you how horrible and confusing it can be; you already know!
The pain can really be excruciating at times. We can manage to look good on the outside, but inside we feel terrible. We have fatigue, pain, stress, and all we want is to feel better and be normal. We become frustrated and feel hopeless and not in control of our lives, and that is an awful feeling.
I decided to make bracelets for girls and young women who suffer from endometriosis to try to give them hope and to raise awareness. I would like them to feel hopeful and supported every time they wear their bracelet, and know that there are others who are experiencing the same symptoms and frustrations as they are. I want these young women to stay hopeful and not give up.
I would also like everyone who sees someone with one of these bracelets on to be made aware of this disease and know just how difficult it is and have a better understanding of what we go through. We need more research, more support and ultimately a cure so that we can finally start to live our lives to the fullest; the way they are supposed to be! If you have endometriosis and would like a bracelet, please visit my website: braceletsforendometriosis.webs.com. I would be happy to send you one and it would make me proud knowing you are wearing it. Together, we can get through this! Be well and feel good.
-Alyssa, founder of braceletsforendometriosis.webs.com