Fighting For My Dream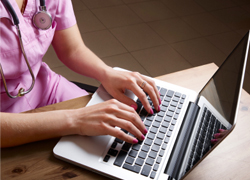 Hey it's Emily!
What an awesome feeling it is to be able to blog for the CYWH again now that I'm home on a month long break from college! This past semester was a tough one. It happened to be my freshman year at Colby-Sawyer College in New Hampshire. I've finally had time to sit back and reflect on my first semester away, which was filled with a variety of emotions and plenty of memories. Through all the struggles, stress, and tears I battled this past semester I often found myself wondering "Why bother?" When you're 1 nursing student out of 300 fighting for one of only 30 spots offered, you often forget.
For the past four months, I was constantly bogged down with homework and classes that often left me wondering "Are these subjects ever going to help me achieve my goal as a nurse?" I couldn't help but think that classes such as Introduction to Art would hold little importance to my major; however, they were still required. Granted, I knew what I was signing up for and was fully prepared to embark on four years of constant stress as well as spending most of my time at the library, but what I wasn't ready for was the constant questioning of my passion. I was reminded every day by my advisor that I was a "pre" nursing major and that I would need to maintain nothing less than B- average to be considered for the program. I was asked multiple times by my first advisor if I would consider switching majors and if I fully understood the difficulty of becoming a nurse. This frustrated me, becauseI knew what I wanted.
When times got tough I learned to advocate for myself by logging even more time with tutors and with professors to prove my enthusiasm for nursing. Towards the end of the semester when everyone was exhausted from all the work, I found myself wondering "Why should I do this to myself next semester? Maybe it's time to give up." The freshman nursing program had begun with 300 "pre" nursing students, and by the end of the semester there were only about 100 left. A majority had switched majors because they felt that they didn't have what it took to continue on after final grades were posted. The constant pressure to throw in the towel from professors and academic advisors was too much to handle for many students. Many saw that doubling their class load and retaking classes wouldn't help them get accepted to the nursing program and would just been seen as a waste of time and money.
I've been home for three weeks now and all that it took for me to make my final decision to return to school and pursue my dream was the same drive I took twice a week last year. Although this afternoon was different, everything seemed to click. As I made my way down Longwood Avenue to Children's Hospital I could feel a smile begin to appear on my face and I thought "How many people can actually smile about coming into work?" I was smiling because I love working as a youth advisor. I enjoy what I do and when I come to work and I'm moved when I see nurses who love their jobs. I've always known that my passion is to become a nurse but sometimes I need is a little reminder to give me enough motivation to continue pushing forward.
-Emily