National Eating Disorders Awareness Week 2011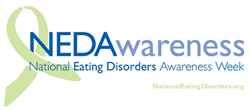 Today marks the start of National Eating Disorders Awareness Week (February 20-26, 2011). This year's theme "It's Time to Talk about It", emphasizes the need to talk about eating disorders. The hope is to increase awareness by talking about the seriousness of eating disorders, and realize that they are complex illnesses – not lifestyle choices.
One of the key goals of the week this is to provide accurate information and resources about eating disorders. Here at Children's Hospital we believe in raising eating disorder awareness, and we also believe in the power of positive media outreach. You can expect an eating disorder themed blog entry from us each day this week. You can do your part to make a difference this week by creating a discussion about eating disorders. If you need information, check out the reliable Eating Disorders guide on youngwomenshealth.org.  Re-tweet or post the facts we provide about eating disorders and help raise awareness!
For more information, click here to download an Anorexia info sheet.
-Nutritionist Orianna