Paint your Plate with Yellow and Orange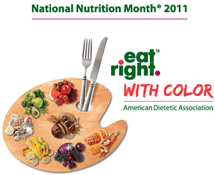 As we celebrate National Nutrition Month, we're continuing to highlight the colors of the rainbow. This week we're focusing on eating delicious yellow and orange fruits and vegetables. Yellow and orange foods get their bright color from a substance called beta-carotene.  Your body turns beta-carotene into vitamin A and uses it to keep your immune system and skin healthy.  Vitamin A is also needed for maintaining good vision. Similar to last week's red fruits and vegetables, the yellow and orange foods also contain vitamin C and antioxidants which help protect you from getting chronic diseases such as heart disease and some cancers.
Here's a list of some delicious fruits and vegetables to add to your diet:
Apricots
Butternut squash
Cantaloupe
Carrots
Corn
Grapefruit
Mangoes
Nectarines
Oranges
Papaya
Peaches
Pineapple
Pumpkin
Sweet potatoes
Yellow or orange peppers
Some of our favorite recipes highlighting yellow and orange foods can be found in the CYWH's "Quick and Easy Recipes for Teens" Cookbook. Check out the recipes below, and enjoy your yellow and orange foods this week!
Sweet Potato Pancakes
Ingredients:
6 cups peeled and finely shredded, uncooked sweet potatoes (fresh or frozen)
1 cup finely shredded onions
1 teaspoon salt–free herb seasoning
1 1/3 cup unbleached flour
1/3 cup chopped fresh flat–leaf parsley
2 cups finely shredded zucchini
¼ cup lemon juice
1 ½ cups egg substitute (or 6 eggs)
6 teaspoons canola oil, divided
Preparation:
In a large bowl, mix the sweet potatoes, zucchini, onions, lemon juice, herb blend, egg, flour, and parsley.
In a large non–stick frying pan or griddle over medium–high heat, warm 2 teaspoons of the canola oil.
Drop a large tablespoon of the batter into the pan and spread it with the back of a spoon to form a thin pancake.
Cook for about 2 minutes per side or until golden crispy.
Remove from the pan and keep warm.
Repeat adding the remaining 4 teaspoons of oil as needed until all the batter has been used.
Makes 8 servings
Mango Shake
Ingredients:
2 cups 1% milk
1 fresh mango, peeled and pitted (or 4 tablespoons frozen mango juice)
1 small banana, peeled
2 ice cubes
Preparation:
Place all ingredients into a blender.
Blend until smooth and foamy.
Serve immediately.
Trade-Off: Instead of mango juice, try papaya or strawberry juice.
Makes 4 servings
-CYWH Staff