Protecting the Skin You're In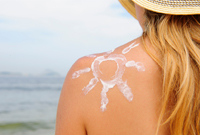 It's easy to get too much sun exposure outdoors, and it's important to take the necessary precautions to absorb the least amount of UV rays possible. Being exposed to the sun without sunscreen and using tanning booths dramatically increases your chances of getting skin cancer.
First, you should know that you're beautiful regardless of your skin color. You should also know that there are sunless tanning techniques available that give you color without the exposure to harmful UV rays. For instance, you can use a tanning lotion or spray, which tans your skin temporarily and washes away after you shower. Most importantly, you can lower your risk of damaging your skin by following the advice below.
Find shade. Try to limit time in direct sunlight to 15 minutes or less.
Use a sunscreen with an SPF (sun protection factor) of at least 30 even on cloudy days. Choose a sunscreen that protects against both UVA and UVB rays. Apply to any part of your skin that might be exposed to the sun, including your scalp.
Apply sunscreen BEFORE you go out in the sun, even on cloudy days. Remember to reapply sunscreen every 2 hours.
Limit sun exposure between the hours of 10am and 3pm when the sun's UV rays are the strongest.
Cover up with clothing, a hat, and sunglasses that block UVA and UVB light. There are special brands of swimwear and clothing made to block the sun.
Avoid tanning beds/booths. Tanning beds/booths use UV light that can damage your skin just as much as the sun's rays.
Check your skin regularly. Know your birthmarks, moles, and freckles. Make an appointment with your health care provider or dermatologist if you notice any changes.
-Erica