Summer Fun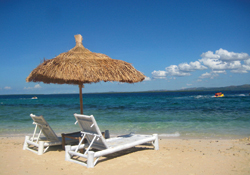 Summer is finally here and everyone is excited to get out of "hibernation". Many of you may have summer activities already planned, but for those of you who don't know what to do with your free time, here are some suggestions:
Volunteer: Volunteering your time opens the door to experiences that you may not otherwise have, and also looks good on your resume. Depending on the school you attend, it may also be required.
Summer employment: Working gives you the chance to save money that you can put towards college or another important event that may be coming up.
Take a free tour: Tour colleges and universities that you're curious about. A tour will give you the chance to check out the campus, dorms, classrooms, etc. and you will likely learn more about the programs offered.
Attend a sporting event: Whether you're a baseball fan or you prefer being a spectator at another sports event, have fun cheering your team on.
Start journaling: Writing is a great way to express yourself. It's also a great way to release stress too. You can write in a notebook or if you prefer, electronically.
Sign up for a library card: Visit your local library and sign up for a library card. You'll get a head start on your summer reading list – all for free! Be sure to check out other freebies. For example, many libraries have free passes to local museums that you can borrow for a day.
Plan a family reunion on a budget: Talk to your parent(s) about having a family reunion and get their permission. You could hold it at a public place such as a park or beach. Have everyone bring their favorite food. Save on stamps by sending the invitations via e–mail.
Whatever you decide to do this summer, have a great time and stay safe!
-Kayla