Tanning Mom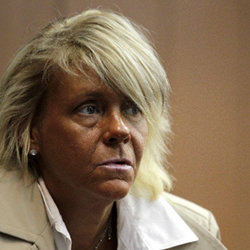 Recently there was a bizarre story on the news about a New Jersey mom who supposedly brought her 5 year old daughter to a tanning salon. However, she denied any allegations, saying she would never, ever put her daughter in a tanning booth. This story has stirred up a lot of controversy causing people to criticize this woman for being an irresponsible mother.
The police became involved after they received a call from someone from the child's school saying that the kindergartener was in pain from a sunburn. The mom denied the allegations saying that her daughter got sunburned from "being out in the sun on an unseasonably warm day".
After reading this story I was deeply upset to think that a mother could possibly do such a cruel thing to her young child. It made me realize how a person can be so obsessed with something that they can force their ideas and beliefs on others. In this situation (if the allegations are true) I feel that the New Jersey mom went too far. Exposing her daughter to ultraviolet light is a known health risk. Considering the age of her child, this could be life threatening and traumatizing. Tanning can cause skin cancer, and her daughter could also become addicted to it. As she grows up, she might even feel ugly without a tan, which could lead to all kinds of problems with negative body image. This is such a bad example to be setting for your child, and now it's all over the media.
I also think that the media can manipulate the truth, so a lot of these allegations might be false. I believe that everyone deserves to live their life how they please without being judged – as long as their lifestyle doesn't harm others. This mom, now known for her love for tanning, has pleaded not guilty and is currently free on $2,500 cash bond. She is set to report to court soon. To be continued…
-Kayla