A Night at the Museum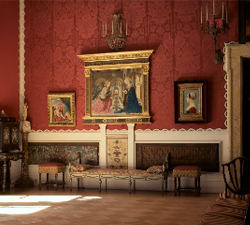 A few weeks ago I got an invitation to go to the Isabella Stewart Gardner Museum for an after-hours event at the museum. The invitation was from an organization at Boston Children's Hospital that is comprised of interns and research assistants. I went to the museum on a class trip in the fourth grade, but I hadn't been back since. The museum just completed a huge renovation with a lot of new gallery spaces for the public and patrons to view the amazing artwork, and developed special areas where artists and students can draw and sketch. I was blown away by all the new spaces in the museum and was excited to spend the evening taking in all the artwork and history.
During the first part of the event there were different art-related workshops and things to do. I decided to attend a workshop on printmaking. My group was able to make our own creations using paints and shaving cream. We mixed the paints and shaving cream to make a design or pattern that we wanted and then pressed the design onto a piece of paper to make the print. All the designs came out really cool, and it's definitely an easy project to try at home! I was excited to make some art and try out different patterns while meeting new people during the workshop.
Next, we went to the main part of the museum and participated in a museum scavenger hunt. It was fun and we were able to explore all the galleries. I remembered a few things from when I had been there on a field trip back in elementary school, but I had forgotten about a lot of the artwork and the beautiful gardens that are in the middle of the museum. It was a breathtaking sight to see all the art mixed with nature. There were artists sketching the gardens and architecture of the building, and I marveled at their talents and abilities.
As the night concluded I was impressed by all the new things that the curators have done to the museum. I really enjoyed being there and definitely want to go back at some point during the day when it might be less crowded. I was so glad I got the invitation and I look forward to going back and maybe even sketching something of my own. I encourage you all to do the same; the experience is definitely worth it!
-Katie