Nathan's Weight Loss and Fitness Journey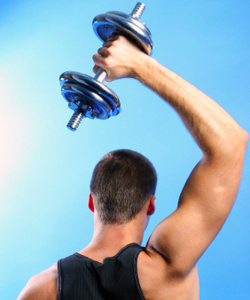 My name is Nathan. I'm approaching my senior year in high school, and like many others, am looking forward to graduating. I used to be much more "unhealthy" than I am now. Walking in on my first day of my junior year, I was 5 ft 10 inches and I weighed 250 pounds. I ate nothing but junk and fast food, and the only exercise I would do was football, which only lasted 3 months out of the entire year. I was unhealthy and always wanted to get in shape, but never had the motivation to make a change and didn't know where to start.
Today, I can proudly say I gained the motivation and learned how to make a change. I'm 6 feet tall now (YES! I waited so long to get to 6 feet…) and weigh 186 pounds. My fast food habit is long gone, as is the big kid I walked into junior year as. Many people ask me my secret. How did I do it? And I answer that question with another: You mean, how did we do it?
My secret is friends and family. I started my weight loss career with one of my best friends. The day I told him about how I wanted to get in shape was the day I gained my first workout buddy. He, unlike me, was in great shape. Being a boxer most of his life, he could workout with ease compared to me, but it didn't matter to either of us. He served as my first trainer and supporter. We worked out together 3 days a week, and he became my "weight loss buddy". He first took me threw the most extreme cardio workouts of my life, and eventually when I was ready, he taught me how to box. I became a member at his boxing gym and never missed a workout. I would not be in the position I am in today without him.
My weight loss career continued with another close friend, my mother. She became committed to losing weight around the same time I did. She would go to her gym, and I would go to mine. We didn't workout together at first, but she became my support at home. We changed our diets together and ate almost the same meals. After my second month working out, I became a member at her gym, and we started to workout together. She would show me workouts she learned with her trainer, and I would teach her workouts I learned at boxing. Every step of my journey, she was there, from the tears of sadness that I first expressed for our new diet, to the sweat drops we both felt at the gym together. Since starting her diet and exercise routine, she has lost over 50 pounds as well. She was my coach at home and at the gym.
Although I did want to lose weight, I had another reason to get healthy – football. I'd been playing football since the seventh grade, but hadn't actually gotten much field time. I wanted to remember myself as a senior who saw the field on game days, not someone who just practiced with the team. My supporters, in this case, were my teammates. I've always had a close group of friends made up of 5 or 6 kids that I practiced with throughout most of my football career. These kids became my lifting buddies. Of course we all needed to gain muscle mass, and we all worked out together at the school gym. My teammates served as lifting mates and competitors. This group of kids pushed me as hard as, if not harder, than any coaches or trainers I have ever known. They are the main reason I am still working to better myself on and off the field. The same kids even became members at the boxing gym I attend to see if they could go through the workouts that I have gone through.
The key to losing weight is not just dieting and exercising, but surrounding yourself with people who are supportive and are able to diet with and workout with you. The people in my life pushed me to go faster, eat healthier, and pump out the last rep. They're not only in a position to help you; often you're in a position to help them too. It's a mistake to say that you should do it alone. Everyone can use help or support somewhere in their life, in my case it was helping me lose weight and get healthier. Those who are willing to help are usually the closest to you, and are usually willing to go the whole 9 yards to help you reach your goals.
-Nathan