Endometriosis Awareness Month 2013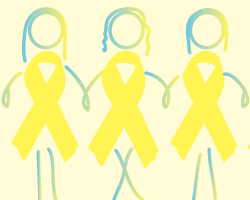 Hey ladies, it's Brittany! March is here and that means it's time to break out your yellow for Endometriosis Awareness Month! I'd like to tell you a little bit about what I've been doing to celebrate. At the beginning of the month, I made a promise to incorporate something yellow in my outfit every single day! My best friend and I went to a craft store and bought yellow ribbon and yellow bandanas. I made yellow ribbon pins and then I gave them to all of my friends and teachers. They wear their endometriosis awareness ribbons every day to support my mission.
It's such an amazing feeling knowing that I have friends and teachers that care and want to be involved in raising awareness about something that's so important to me. When I walk down the hall at school, people stop and ask me why I'm wearing a yellow ribbon. I love getting asked because it gives me an opportunity to educate someone about endometriosis and how it affects tons of women all over the world! After I explain it to them, I almost always get asked for a yellow ribbon! It's truly the best feeling to walk down the hallway seeing all of the yellow and knowing it's all for endo awareness.
Now I have a challenge for you – why not take the opportunity this month to inform someone in your school about endometriosis and get them to wear yellow! Knowing you're educating someone about something you're passionate about is a great feeling. So spread the word – it's Endometriosis Awareness Month!
-Brittany