Blackface In Numéro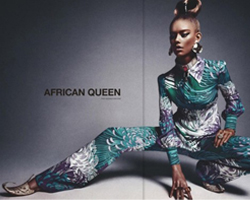 "Blackface" (make-up used on a white person to portray a black person in a theatre or comedy production) became popular in the United States in the 19th century, and later gained popularity in Britain. Charcoal, grease paint, and other types of black dyes were used to achieve a dark complexion, and physical features were over-emphasized.
Fast forward to March 2013, when Numéro, a famous French fashion magazine, found itself in the middle of a Blackface scandal when it published its "African Queen" editorial. The spread featured 16-year old, blue-eyed, blonde American supermodel Ondria Hardin, painted in dark makeup from head-to-toe. She also was dressed in prints; presumably to give the photos a more "ethnic" look. People all around the world were upset about this, probably because having a Caucasian woman dress up as an African-American traces backed to days when Blackface existed.
Sebastian Kim, the photographer of the editorial, stated that "It was never my intention (nor Numéro's) to portray a black woman in this story". He also says that "We wanted a tanned and golden skin to be showcased as part of the beauty aesthetic of this shoot". Although Kim and Numéro didn't have bad intentions (and a public apology was issued), the results may have very negative affects among African-American girls. Black teenagers who want to become models in the future may now wonder if there's hope for them in the industry. Also, girls who are simply flipping through the pages of this Numéro edition may question the complexion of their own skin. Interestingly enough, this isn't the first time that Numéro has been under fire. In 2010, a similar situation occurred when the magazine published a spread with a Caucasian model painted black and wearing afro wigs, posing as an African mother.
Ondria Hardin was chosen for the photo shoot from Ford Modeling agency, a well-known modeling agency that has been in business for many years. According to other modeling agencies, Ford employs many black models. So why not choose someone with a naturally dark skin tone? Being a young African-American woman myself, I feel that hiring a Caucasian woman to portray an African American woman is a hard emotional blow. I just think the media needs to emphasize the beauty of natural skin tones, and be more aware of how one set of photographs can speak a thousand words.
-Christina