Recreational Summer Reading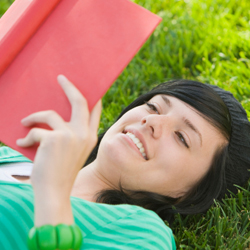 When I'm away at college, most of my time gets eaten up by homework, essays, tests, and my job. Even though I love my school and my classes, what I miss most during the school year is reading for fun. Between all of my other obligations in the fall and spring, I use summer to catch up on all my recreational reading. There may only be one month before school starts, but here are a couple of my recommendations to finish your summer reading off strong!
Slouching Toward Bethlehem by Joan Didion. Often considered one of the most prolific female essayists of the 20th century, Joan Didion writes some of my favorite pieces in her 1960s-centric Slouching Towards Bethlehem. This collection offers a realistic, in-depth look at California in the '60s, and the essays range from Joan Baez to adultery to LSD. The title essay is wonderful, but the rest of the book is just as engaging.
Where'd You Go, Bernadette? by Maria Semple. Maria Semple was a former writer for the cult hit "Arrested Development," so, going into her novel, you know it will be funny, smart, and well crafted. Where'd You Go Bernadette is a novel told through letters and narration by Bee, a 15-year-old girl whose agoraphobic mother, Bernadette, goes missing. Semple's complex story will take you laughing and crying (yes, I really did cry reading this book) from Seattle to Antarctic to figure out just where Bernadette went.
Never Let Me Go by Kazuo Ishiguro. It's hard to talk about Never Let Me Go without giving away too much of the plot, but I'll try. Ishiguro's science fiction novel takes place in the dystopian future and follows a group of friends from the childhood at a mysterious boarding school through the ends of their lives. Though the world the characters live in is one built off of new genetic and scientific discoveries, the story is really about innocence, endurance, and the love between the protagonists.
Ghost World by Daniel Clowes. Daniel Clowes graphic novel Ghost World tells the story of two disaffected recent high school graduates, Enid and Rebecca, in a small American town. They spend their time criticizing their peers, neighbors and friends, driven by teen angst in a way that is more clever than tiresome. At the core of the story is Rebecca and Enid's evolving friendship, which progresses in the realistic way that many friendships do as we grow up and drift apart. Even if you're not into graphic novels (I know I'm not), give Ghost World a try—its humor and candor might surprise you.
Have you read any of these books? What did you think of? What have you read this summer?
-Julie