Speak Spoken Word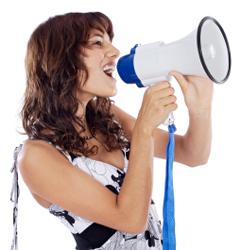 One of the most beautiful things about being human is the ability to translate your emotions from the attic of your brain to audible sounds called words. We speak words everyday – silly words, smart words, even bad words. The gift of being able to speak so that everybody in the room wants to listen to what you have to say is what Spoken Word is about.
Spoken Word combines components of theater, music, and art. It's a collaboration of the inner workings of your feelings combined with the rhythm and music of each syllable in the words you speak. Spoken Word is a haven where the talent of expressing yourself is worshipped. I'm one of the co-presidents for the Spoken Word club at school, and I can honestly say that I love to perform original pieces. Because school doesn't always necessarily allow for creative outlets, I like to use Spoken Word as a way to get my feelings out and to express myself.
I think the ability to profess your feelings is so important – our thoughts are what make us individual and independent. Although it may be a bit intimidating to get up in front of an audience and speak, it's never a bad thing to show support to Spoken Word performers just by listening! Participating isn't just about getting up in front of an audience and talking; it involves active listening and the willingness to feel what somebody is saying. Spoken Word invites any and all people to participate!
To be able to give others a piece of your mind while being the center of attention for 2-15 minutes is probably the reason why many are eager to participate. Spoken Word inspires people to open up their minds to new ways of viewing all things, and talk out loud without fear. This movement/activity begs people to participate, and that's the beauty of it. It allows people to talk about the things they feel passionate about instead of remaining silent.
-Jessica