Shopping Addiction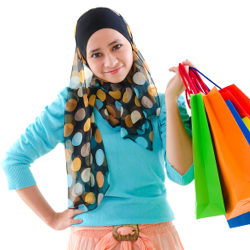 You love to shop, but how do you know if your addiction is getting a little out of hand? Are the numbers in your bank account dropping precipitously? Relax; here are a few tips on how to get the best deals and save money too!
Don't shop alone. Sure, shopping by yourself may be relaxing after a long week at school ("retail therapy" is one of my own guilty pleasures!) but when you're alone, you're more inclined to buy impulsively. The next time you go shopping; why not invite a friend to go with you? Your friend could help filter out some of the unnecessary things you'd be inclined to buy if you were shopping alone!
Always look for sales. Most of the time the sale and clearance sections in stores are cluttered, overwhelming, and unorganized. This could be the store's way of trying to deter people from digging through the piles. Make it your mission to look through these sections. You never know what you might find. Ask yourself – Do you REALLY need it? Be careful not to buy something similar to what you already have.
Try shopping online – you can get a lot of good deals on the internet.
Shop out of season or at the end of the season. Many stores have "blowout" sales because they want to get rid of inventory to make room for next season's clothes, so you can buy quality clothing at a fraction of the original price.
Hopefully my tips will help you to focus on the things you need instead of all of the things you want. Even if you let yourself get a little wild with your shopping from time to time, you'll be well-equipped with new skills to save money. Happy shopping!
-Jessica