Chef Caitlin's Corner: Fruit Season Has Finally Arrived!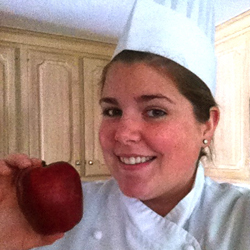 First signs of spring in New England: warmer weather, trees budding, school year winding down, and FRUIT! After the long winter we had, it was a welcome sign that summer is approaching. Berries, including blackberries, raspberries, and strawberries, are in season in the month of May. May is also a good month for tasty melons such as cantaloupe and honeydew. Coming up in June is stone fruit (peaches, nectarines, and plums), cherries, and pineapple. July brings pears, oranges, and grapes.
Depending on where you live, seasons can vary and have no fear if you can't find the freshest produce. Frozen fruits are a great option; they are usually flash frozen at the peak of freshness, which retains all the vitamins. Just be careful to choose frozen fruits that don't have sugar added. Canned fruits are great too, but again make sure the fruit is packed in fruit juice, and not light or heavy syrup.
So why is it good to incorporate fruit into your diet? I think the best reason to eat fruit is because it simply tastes delicious! Fruit also contains fiber and tons of vitamins and minerals. Fruit is a great substitute for a sweet tooth, especially when the fruit is in season― it's ripe and flavorful! With fruit, generally the more you eat the better, but most dietitians recommended eating at least 3 servings of fruit a day. A serving of fruit is usually 1 piece of fruit or 1 cup of cut fruit.
To show you how versatile fruit can be, I thought I'd give you a salad recipe this month. It has fruits and nuts to help power you through the day. The d
ressing is homemade, and super easy. It uses Greek yogurt for a calcium boost, and a touch of honey for sweetness. It has fresh strawberries, and some canned mandarin oranges in it and almonds. If you are allergic to almonds or nuts in general, leave out the almonds; it will still be phenomenal. Take advantage of the wonderful seasons of fruit!
Check out your local supermarket or farmer's market to see what looks good to you.
Spinach Salad with Strawberries and Almonds – 2 Servings
Salad Ingredients:
4 cups pre-washed raw baby spinach
1 cup sliced fresh strawberries
½ cup mandarin oranges segments in juice, drained
1/4 cup of sliced almond
Dressing Ingredients:
½ cup plain Greek yogurt
1 Tablespoon honey
1 Tablespoon lemon juice
½ teaspoon poppy seeds
Instructions:
Mix up dressing ingredients in a small bowl.
Toss salad ingredients together, drizzle dressing on top.
Enjoy the taste of spring!
-Chef Caitlin