Cradles to Crayons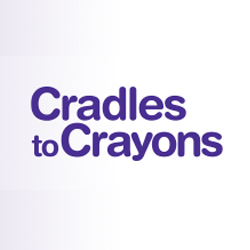 Recently I went on a service learning trip for my environment class. My friend and I decided to go to Cradles for Crayons in Brighton, MA. Before I signed up to volunteer there, I never knew this organization existed. I learned that this organization w2as established to, "provide the essentials for a childhood". Their mission is to provide children ages 0 to 12 with some important basics such as clothing, school supplies, accessories, toys, etc. These items are given to families who have a low income or are homeless.
Since I had never heard of it before, I expected Cradles to Crayons to be a small organization; however, when I got there I was shocked at how big their place is. The section of the warehouse that they were located in was huge and filled with many shelves of clothes. The clothes ranged from pants to sweaters to t-shirts, and they had separate shelves for things like purses and belts. I was also surprised at how many people were there volunteering. On top of that there were about twenty volunteers sitting down in the introduction room, where Cradle to Crayon's staff members explained what our responsibilities would be for the day.
David, our director for the day, showed us how to make packages of clothes for the age group we were assigned to. He also taught us how to separate clothes that were not in excellent condition, meaning they had rip or stain. Those items were thrown in the recycle bin which was later checked by staff members to see how those items could be fixed. After learning how to make outfits for 10-12 year old girls, my friend and I began to pick out clothing from the shelves. We ended up forming a total of 8 different packages which each contained 4 shirts, 2 sweaters, 2 pants, sleepwear and an accessory.
By visiting and getting to know this organization, I learned a way in which I can help provide for those families who are not in a position to buy basic necessities for their children. I also learned that even if I may not have the time to fit in a two hour long volunteer session with the organization, I can always donate a handful of clothes that have been sitting around in my closet and bring it in for the organization to pass along to those in need. If you want to help Cradles to Crayons with their mission you can schedule a volunteer visit, or simply turn in a couple of clothing items that are in good condition that you no longer use!
-Monica