10 Years of Endometriosis : How it has changed my life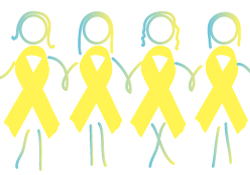 10 years ago I went to the doctor, after having weeks of abdominal pain. The doctor could not figure out what was causing my pain, so she asked me to have a Cat Scan. It showed nothing. I went home still in pain and wound up in the Emergency Room the next day. It was the first time I had ever been to the ER. The pain was unbearable. I was admitted to the hospital for five days, and even though I felt better at times, no one could quite figure out what was going on with my body. I was 14 at the time, so was I just going through puberty?
I knew something was going on with my body, but what? I finally met Dr. Marc Laufer in 2005, and after a lengthy discussion he asked me to keep a pain journal. I did this for about two months, and my pain score on any given day could be a 3 or a 10. With all this information, we scheduled my laparoscopy, a minimally invasive procedure to explore the possible diagnosis of Endometriosis. The only thing I really remember from that day is laughing while counting backwards during the anesthesia, but during the procedure Dr. Laufer did find Endometriosis lesions and removed them with ease.
Looking back it is hard to believe that I have had Endometriosis for 10 years. It has taught me so much about my body, and I am so glad that I did not ignore my pain. It is real.
I honestly believe I would be a different person if I did not have Endo. I am now 24 years old, and I have had two laparoscopies, pain, spotting, headaches, constipation, and sleepless nights because of my Endo. It has been 10 years of pain and tears, but also comfort and understanding. When I was in the ER in 2004, I would have never guessed that Endo would be the answer to all my pain. I also would never have guessed that I would choose a career in Nursing, and care for others who share the pain I have gone through. Endo has taught me to be a better nurse, through compassion and life experience.
After 10 years my advice to you is this. Speak up. Talk about your pain. Don't ignore it. Treatment is available to help manage your pain and preserve your fertility. It can change your life.
– Katie