Over the Rainbow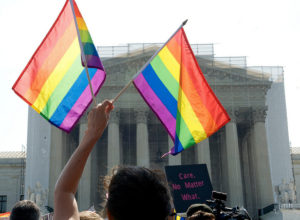 The debate over a controversial topic that has been a subject of much contention over the years has finally come to an end. As of June 26th 2015, "same sex marriage" officially became legal in all 50 states. The news sparked all kinds of social media activity such as #LoveWins and #GayIsOK on Twitter and Instagram, as well as many geofilters on Snapchat that read "Making History" with symbols of "equality" in Pride colors. This is empowering to the LBGTQ community to know that so many people are talking about their success as a community.
As with any political debate though, negative comments from different groups and individuals are to be expected. Religion also plays a role in the way many people respond to gay marriage and in many households it is still a very touchy subject to discuss. The reality is this: many older generations don't seem to quite understand the significance because they grew up in a different era that had conservative ideals and beliefs, making it difficult for some to come to the conclusion that love is love. The way I see it is, if someone loves someone so much so that they are willing to fight for their relationship, then that is true love and should not be judged. Yet many people don't see things this way. You can try to make other people change their minds about this topic, but remember that sometimes people are just so set in their ways that there is no changing their beliefs. I personally think we should be able to live our lives and not worry about what others think.
There's always going to be people who may not completely understand gay marriage and its importance to so many individuals but truthfully, there are many things people may not understand about future generations. Based on the recent Supreme Court landmark decision, maybe it is true that love really does conquer all.
– Katlyn