Just Marriage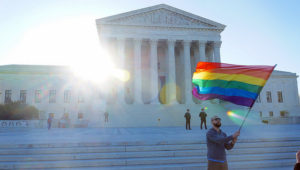 Everyone I know is so excited about the Supreme Court decision making same –sex marriage legal in all 50 states! When I first heard the news I was pretty excited. I couldn't believe that after so long, the fight for same sex marriage is now over. However after the decision was announced, I saw a post on Instagram saying that "God is disappointed."  All I could think was, will this decision cause a backlash from religious organizations?
I really think that it is good idea to let people from the same sex get married. I personally have friends that grew up facing discrimination and hatred because they liked the same sex. However at home, my mother always told me that "love is love, no matter if the two people are different from each other."  She also said that, "we all have someone who will love us unconditionally and love our differences." Allowing religion to get in the way of an individual finding their true love is NOT fair. LGBT people deserve the same amount of respect as everybody else in this world.  No one should feel discriminated against because they love someone from the same or opposite sex.
I understand that people have different perspectives on religion, but to judge someone and say that "God is upset" because they are attracted to a particular person is totally not fair. People should be allowed to marry whomever they want without people bashing them and saying how God is disappointed. In my eyes love is love and nothing should get in the way of that.
We have officially made history after a very long fight. I'm pretty happy to see couples are celebrating and happy about this amazing decision the Supreme Court has made. Hopefully in the near future same-sex marriage will only be known as just marriage. It just shows that after so long and such a long fight love defeats everything.
-Astrid