Techy Teens Invent Cool Condoms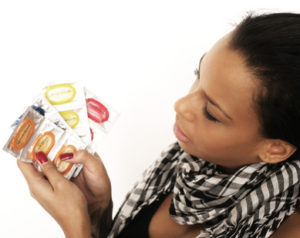 A good friend tagged me in a Facebook post this morning with unique news that I would like to share with you. My hunch is that the story will go viral but just in case you don't catch it on your news feed, here it is. It's a story about a group of amazing teens who won the Teen Tech Award in London for the best invention in the "Health" category. The competition is open to 11-16 year olds and the theme of this annual event is to encourage techy-savvy teens to realize their true potential. In light of the fact that the CDC reports that approximately 20 million new cases of STI's are diagnosed each year in the United States (which doesn't take into consideration all of the undiagnosed cases) the idea is worthy of future research.
The idea is simple yet remarkable. The condom, called "S.T EYE" is a condom that glows when it comes in contact with different sexually transmitted diseases. For example: The rubber in the condom would turn glow-in-the-dark "green" if it comes in contact with chlamydia, purple for the human papilloma virus (HPV),  yellow for herpes, and blue for syphilis. Users of these condoms would have the advantage of being aware they had an STI and thus be able to get treated very early, lowering the risk of spreading it to others and lessening harmful consequences such as pelvic inflammatory disease and future infertility.
The students were given a monetary prize to create a prototype. Granted, this is only an idea at the moment and the team will have to address many questions along the way before it can be marketable but what a terrific idea! Congratulations to the teens who thought of this invention! Well done!
Addendum: In the meantime, you can protect yourself by using condoms that are available to you EVERY time you have sex!
Read more about sexually transmitted infections here.
-Phaedra