Jumping Headfirst into Club Sports in College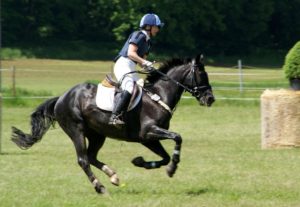 The hectic atmosphere of club fairs at school can feel overwhelming yet exciting, especially as a freshman. Representatives from all types of groups trying to rope you into joining their email list, offering you chocolate if you attend their general interest meeting, promising you an amazing time with great friends. But how can all of these extracurricular activities fit into your seemingly already packed schedule, with classes and labs, homework and facetiming with your cat?
I'm a sophomore in college this year, and I had many freshman ask me how I possibly have time to horseback ride and compete in three different disciplines, on two separate teams, all while keeping up with school work with my double major (not to mention the occasional work in the ceramics studio). But I always tell them (and now I want to tell you too) that it's totally possible! I wouldn't want my schedule to be any different.
I encourage everyone to join some sort of extracurricular that they're passionate about or at least interested in. While you might be tempted to throw yourself into schoolwork 24/7 – it will likely be stressful on your mind and body. Not only will joining a club help you meet new people who share your interests, it will also serve as a great break from the academic pressure of college. I love being on the equestrian team at my school because the riding gets my body moving, and the animal therapy of being with horses eases my stress. Like a lot of club sport teams, we travel on the weekends to compete, so I get to explore new parts of the country and also get a change of scenery from campus.
Clubs are also a great option because they can typically be as little or as big of a time commitment as you want. I've known some clubs that meet once a month, and others that meet a few times a week! You could also go so far as to create and run a new club – the possibilities are endless.
Ultimately though – college is full of opportunities to meet new people and try new things and I highly recommend that you take advantage of these connections while you can.
-Tess