Introducing Harry!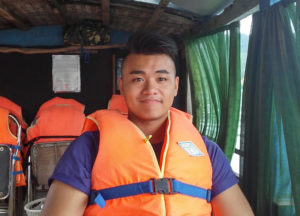 Salutations everyone!
My name is Harry. I am one of the new youth advisors in the Division of Adolescent and Young Adult Medicine at Boston Children's Hospital. I am a senior at Boston Latin High School which is just down the street from BCH. I am always up for a good challenge and I try to keep an open mind with everything.
I accepted this position because of my interest in health care and aspiration to go to medical school after college. I have interned at Tufts Medical Center in the General Medicine Department where I sat in on meetings, filed paperwork, and worked on various patient quality improvement projects. I also received a scholarship to travel to Ecuador on a Global Health Fellowship with United Planet last summer. There, I volunteered in day care centers and observed how urban and rural clinics differ and compared them to ones in the United States.
Aside from medicine, I am also into art which has led me to work on the Teen Art Committee at the Museum of Fine Arts. There, I work with members to plan and facilitate events at the Museum targeted for teens. On top of that, I volunteer at Youth Enrichment Service's (YES) workshop every Thursday where I sharpen equipment and help kids find skiing and snowboarding gear. I also go on weekend trips with YES to teach kids how to snowboard. I am also the treasurer of Helping Hands which is a club at school that plans events to raise money and clothes for homeless shelters.
Working at BCH will help me learn new skills and continue my quest into medicine. I can't wait to share my thoughts, ideas, and experiences!
– Harry.