Running While Female: Honoring Vanessa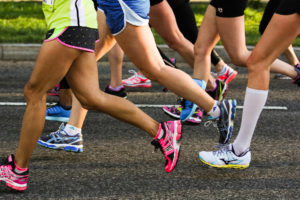 Driving home at midnight from a late-night shift on a recent weekend, I noticed a man, barely visible but for the reflective tape on his jogging pants, out for a run along the Charles River. As I continued on my way, I found myself wondering aloud about how different his experience might have been if he were female. I had watched as this runner effortlessly made his way along the path, intently focused on putting one foot in front of the other, and I imagined how free he must have felt. In contrast to that, I thought about how the women I know are constantly aware of their surroundings, always on the lookout for possible danger.  I thought of all the things I had been told as a young woman about being out at night: "Always stay on a well-lit path." "Make sure someone knows exactly where you're going." "Try to go out in pairs." "Carry your keys between your fingers in case you're attacked." Not exactly the freedom you seek when you go out for some exercise and fresh air!
I replayed this scene in my mind this week when I read about an amazing young woman named Ashley McNiff who will be running this year's Boston Marathon in honor of her childhood friend, Vanessa Marcotte. Vanessa's name made headlines last August when she was murdered while out for a run in the middle of the day in her hometown in Massachusetts, and sadly she was one of three women runners killed within a period of nine days that summer. While it is rare for women to be subjected to such extreme violence, the experience of being harassed while running is unfortunately rather common. In a survey done by the running website Runners World (www.runnersworld.com/running-while-female), 43% of women runners reported that they had experienced such harassment at some point. This came in the form of catcalls, inappropriate comments, unwelcome touching, and even being followed. Ashley wants to spread awareness about the challenges many female runners face, and is working hard to not let what happened to her friend prevent her from engaging in the sport she loves. To that end, she and one of Vanessa's cousins, Caroline Tocci, have started a foundation in Vanessa's name with a mission to reduce violence against women and "advocate for a world where women are safe and free to live boldly".
I hope you'll join me in cheering on Ashley and all of the runners, male and female, at this year's marathon! For more information about the foundation, including ways you can support their mission, please visit https://www.vanessatmarcottefoundation.org/.
-Ashley G.