Into the Wilderness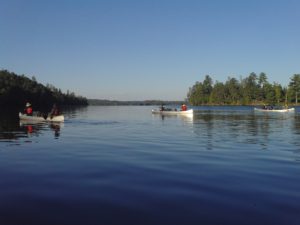 Imagine nothing beyond the sight of decaying evergreen with overgrown grass and trees around you with the feeling of mud and rotting plants on your clothing. This was my life for two weeks-camping, canoeing, hiking, and portaging (the struggle of carrying a 70 pound canoe on your shoulders), eating rotting cheese from our food backpack, and cutting salami with the edge of a sunscreen container because we lost our only knife. This was my unfortunate, yet rewarding, experience with Voyageur Outward Bound in the middle of the bear, moose and leech infested lands of Minnesota. Being a shy urban girl who has lived in Boston her entire life, the environment change really put me out of my comfort zone.
Although my expedition was only for two weeks, I was able to experience many unforgettable moments. For the bulk of the trip, we canoed in through the boundary waters, which were peaceful and refreshing. We woke up at 4 or 6am to get ready to go out on the water and canoed our way through the water and portaged when we reached land. We arrived at our campsite at 7pm and got to bed around 12am – we worked tirelessly.
I had many memorable moments on this trip: being stuck in a thunderstorm and staying in an uncomfortable position for 3 hours in the pouring rain, dragging our canoes across a thick marsh using only the strength of our biceps and a strong string, and doing a high ropes course 60 feet above the ground and zip lining down even though I have an irrational fear of heights.
Looking back, my adventures in Minnesota were far from picture perfect, but I would never change anything about it. After the trip, I was empowered to seize more opportunities and appreciate all the things that I had. I developed a greater sense of compassion, a greater understanding of the importance of people in our lives and perspective of my privileges. Without privacy or social media to entertain us and connect us to our friends and family, I realized that it is up to us to make this trip what we want it to be. We were all exposed and left to ourselves without the distractions to stray us away from our own thoughts and insecurities.
For the first time in my life I decided to take more risks and do activities that would expand my horizons but put me out of my comfort zone. After the trip, I decided to go for things that I was always scared to pursue. I am in the powerlifting team at my school, am taking part of the Chinese Exchange Program, and am no longer scared to be put outside my comfort zone. Although the mud no longer saturates my clothing and the scent of evergreen no longer lingers, I have gained a different perspective of my life that will always stick with me and retained the resilience and strength like the Minnesota tall grass that once surrounded me.
– Judy