Prom Night Decisions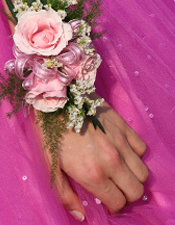 Homecoming and the prom are usually very important events during a girls' high school experience. Along with the stress of finding the perfect dress, shoes, and the right hair-do, there is also stress about finding a date, or for some, making the decision to go alone.
In my high school, you constantly hear somebody asking someone else: "Who are you going to prom with?", "Do they go to this school?" and things of that sort. I'm going to my junior prom this year and people have already assumed that I'm bringing a date. Honestly, I wasn't going to. I was planning on going by myself and having a good time with my girls. However, now that it seems like everybody is going with a date, I might just go with a date too, because I don't want to be alone the whole night. Now there are more questions. "Who will I go with?", "What will my date wear?",  "Will I actually enjoy myself with this person?"
The answer to the last question is the most important. Whether you (or I) decide to go alone or with a date, what's important is having fun that night. Don't go with someone just because all your friends have a date. Do what will make you happy. Also, you shouldn't feel pressured to go to prom with someone just because they ask you. If you're asked to go to the prom by someone you don't know very well or don't think you have much in common with, it's okay to say no. Prom should be a night in which you have fun and build memories with the people you always want to remember. Try not let anyone ruin your night, and make the best of everything. On that note, whether I go alone or with a date, I'm sure the prom will be fun and safe, and a night that I will never forget.
-Kerrin