Restore, Relax – Yoga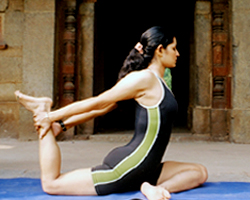 Someone asked me the other day what type of yoga I practice. I paused and responded "It depends on the day". Am I in the mood for a gymnastics-like class filled with hand stands and tricks? Do I feel like going to a rigorous hot class? Maybe I need a deep stretch? All styles of yoga have different benefits. As a yoga instructor and student, I know that it's most important to listen to your body.
Right now I'm very excited about yin yoga. Yin yoga is more of a restorative and relaxing style of yoga which allows you to stretch and breathe. Don't get me wrong, that doesn't mean it's "easy." If you're like me, (the mind-wandering type), this style is challenging!  Typically, in a yin based class, you will hold postures for 3-5 minutes. All of the postures are on the floor and there are always ways to modify the pose so you're comfortable.
If you try out a yin (or any other type of yoga) class, make sure the postures don't hurt.  That's not the purpose of yoga. What's great about the class is that it doesn't matter if you're a beginner or a long time student.  Everyone can benefit from stretching and relaxation. After a yin yoga class, I often feel more awake and flexible than when I started! I say go for it. Try the relaxing, stretching, and breathing focused class. Maybe you'll also leave feeling less stressed out, or even rejuvenated!
-Nutritionist Orianna