Get the Dress – Without Breaking the Bank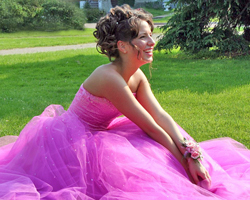 Hey girls, I know that prom is just around the corner, and from what I remember, I was a little stressed out about what hair style I wanted and what dress, shoes, and accessories I was going to wear. I also remember everyone talking about the style of their dress, how much it cost, and some of the ridiculous prices they mentioned.
I know that every girl wants to look beautiful on their prom night, but looking good doesn't have to be expensive. I remember when I was looking online for my own prom dress, I saw very nice dresses but I thought that they were overpriced. I don't come from a high-income family, but even if I did I don't think I'd want to waste $200+ on a dress that I was only going to wear once. I mean honestly, how many people are going to wear their prom dress again? Prom dresses aren't typically worn for other occasions, and even if another occasion did come up, you probably wouldn't wear the same thing because you'd want something "new" for pictures.
There are many places that you can get amazing dresses at reasonable prices. For example, "Belle of the Ball" in Boston offers dresses to girls from low-income families. You can also shop at smaller boutique stores instead of large department stores. (I remember when I was dress shopping I went to small boutiques that had many pretty dresses.) I went to two proms during my senior year and I ended up buying both dresses for about $75.00 each. I loved my prom pictures and had a blast.
So remember, keep your options open while looking for a dress. Don't pay too much money for a dress unless you absolutely love it and even then, keep looking. Chances are that you'll find a less expensive dress that you love even more.
-Erica