Chef Caitlin's Corner: Safe School Lunches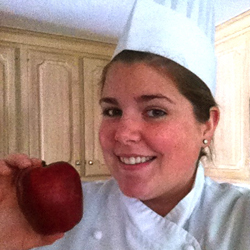 Hello again! I hope everyone has had a pleasant start to the school year. I recently started to think back on my lunches when I was in high school, which wasn't too long ago. I usually brown-bagged my lunches, which consisted primarily of sandwiches, yogurt, and a piece of fruit; nothing out of the ordinary. Now as a chef, I cringe when I think about eating yogurt that's been sitting out for about five hours with no refrigeration! So today I'm going to talk about lunch food safety.
The best thing to do to keep your lunch safe and delicious is to invest in an insulated lunch bag. There are so many cool and stylish bag options for storing your lunch, and most bags range between $8-$20. They really help to keep perishable foods (foods that spoil when they aren't kept cold) cold. I have a few different ones that I use to take my lunch to work. Some are neoprene (like a wet suit), and another one is fabric with an insulated lining.
Secondly, a small ice pack to keep your lunch cold is a must! The food "danger zone" is between 40°F and 140°F. What that means is that bacteria can grow in this temperature range. So keeping your food below 40°F will keep your food from spoiling. This can be accomplished by placing an ice pack on the bottom of your lunch bag. If you don't want to have to lug home the ice packs, another idea is to freeze a water bottle or juice. You can also freeze yogurt, which will make it the perfect chilled temperature by the time you eat it.
Below is a (lunch bag friendly) sandwich wrap recipe for all my vegetarian friends out there. Even if you're not a vegetarian, this is a protein packed sandwich that will give you lots of energy and help keep you feeling full throughout the school day. Try to pack a low-fat dairy snack (such as a yogurt or string cheese) and a piece of fruit to keep you fueled before your next meal. Prepare this sandwich the night before and keep it in the fridge for a grab and go lunch. Remember to use an insulated lunch box with an ice pack.
Veggie and Hummus Power Wrap – 1 serving
Ingredients:
1 large whole wheat tortilla
2 tablespoons of your favorite hummus
¼ cup shredded carrots
½ avocado, sliced
¼ cup shredded cheese (try Colby Jack or Cheddar)
½ red bell pepper, cut into thin strips
1/8 cup diced cucumber
1/8 cup chopped tomatoes
½ cup baby spinach
Instructions:
Spread the hummus on top of the tortilla.
Top with the rest of the ingredients. Roll up and wrap in foil for easy eating.
Enjoy!
-Chef Caitlin