Small Things You Can Do to Save Big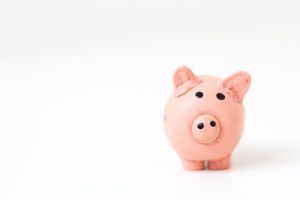 Math may not be your favorite subject but it is an important one-especially when it comes to your financial future. Finances can be overwhelming, and may seem difficult to understand at first. Thankfully, there are a few simple things you can do that can make managing your money (almost) stress free. Here are my tips:
Know where your money goes. Notice what you spend your money on. You can keep track of it in a notebook or, if you're feeling really ambitious, an Excel spreadsheet.  Are you spending it on food, entertainment, transportation, etc.? Tracking your spending even for a week, will give you a better sense of where your cash is going. Apps such as: iAllowance, Mint, and Smarty Pig can be a big help with this.
Save those pennies. Got spare change? Get a jar and toss your change in it at the end of each day. When the jar is full, take it to your local bank or CoinStar and cash it in! You can put that money in the bank, or use it for something you need.
Be bargain savvy. Compare prices. If something is, say, $10 at Target, is it cheaper at CVS/Stop&Shop/WalMart/on Amazon? Take a quick moment to compare prices. Many stores will price match!
Open a checking and savings account. Look into banks/credit unions near you to find one that will best meet your needs. Put money in your savings whenever you can-birthday money, tax returns, that random check from Grandma-and then leave it there. Remember, your savings will slowly accrue interest, without you having to do anything! It's fun to check your balance weekly, so you can see how much you're saving.
Need textbooks? Textbooks are a huge beginning-of-semester expense in college. See if you can rent them, buy them used, or borrow them from the school library.
Build credit. Paying off your car, college loans, and (if you have one) credit card balances on time each month are great ways to build your credit score. Having a strong credit score (you can pull your credit score for free online) will help you in the future when you are looking to rent an apartment, or finance a new home, or any number of things!
Happy saving!
– Marissa