Do the Deed — Read!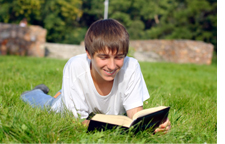 It's official. Summer is here. You've had time to let the relaxation and rejuvenation sink in, but you've also had make an important decision — whether or not to turn your brain off entirely.
It seems funny and perhaps even genuinely appealing to reject the notion of engaging in academic activity during summer. However, consider the fact that by partaking in one simple activity — reading — you'll keep yourself entertained during the lulls of summer, and keep your brain sharp without even realizing it. That's right, dear readers. Whether it's a book your teacher would never suggest, such as Harry Potter, or something a little heavier, reading over the summer will help you tremendously in the classroom come fall.
Think about it. If you look around the beach, what are people doing? When you want to enjoy a gorgeous summer evening on the porch, what do you do? You read! By always having a book on hand, you'll benefit both intellectually and academically.
In addition, summer gives you an opportunity to kill two birds with one stone. You're looking for something to read. You've been assigned something from school to read (which, by the way, will typically be a good book; teachers enjoy reading good books too!). So what's the conclusion? Read the school book — for pleasure. That's right. You've got days, weeks, months, to get the reading done, so the time constraint of a typical reading assignment doesn't exist. You can read the book just like you would read any book for pleasure — at a leisurely pace, on your own terms.
So take control of your academic life; keep the engine that is your mind running for the summer, and when that dreaded bell rings just after Labor Day, you'll have a huge leg up on your lazier classmates. Do the deed, it's the summer, so read!
-Gabi P. Remz, YMH Summer Writing Intern